Surfersskin Sunscreen – Made by Surfers for the Surfer
At Surfersskin, we know surfing. We know that satisfaction of catching the perfect wave; feeling free and alive as the sun beats down on your face.
The truth is though, wetsuits can only protect so much of you. That's why we created Surfersskin, an Ultra Performance SPF 30+ sunscreen that can handle extreme conditions as well as you can.
Surfersskin is water and sweat resistant, and formulated to meet the highest sun care standards in the world. Designed to give protection in the water for up to 2 hours, its non greasy formula won't run into your eyes, leaving you free to focus on the thing you really care about – spotting those waves.
We also know that you wouldn't surf in a sea full of chemicals, so whilst Surfersskin has a high UVA, UVB and Broad Spectrum protection, it's also made using a PABA-free formula.
Surfersskin: Helps keep your skin as alive as you feel.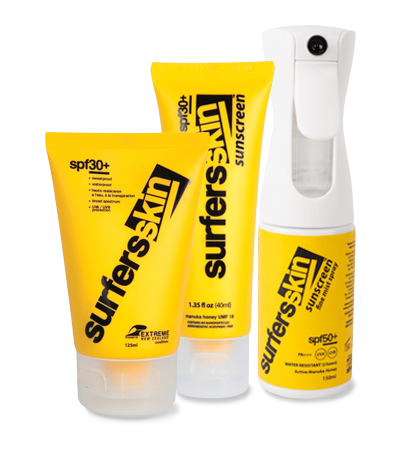 Highly Water Resistant

Non-Greasy PBA Free
Contains Aloe Vera

SPF 30+ UVA/UVB

Sweat Resistant

NZ Manuka Honey
"Who better to design a sunscreen than those who actually use it. Surfersskin is exactly that, a product made and used by the same people. It feels good to use a sunscreen which is protecting me from the sun, and the related dangers, rather than other sun screens which have overspent on packaging and wants to give it's users a nice tan, talk about an oxymoron. Thanks Surfersskin." – Trish Ramsay